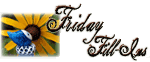 I've been reading these Friday Fill-Ins from several blogging friends but this is my first time to join :)
Here it is for this week:
1. My blueprint for success includes

hardwork and prayers

.
2.

Maxx
was the last candy I ate.
3. The best facial moisturizer I've ever used is

from Pond's

.
4.
Sleeping
can be good therapy.
5. I'd like to tell you about my

experiences on being a first-time mom
.
6.
Being a good listener
is my strongest characteristic.
7. And as for the weekend, tonight I'm looking forward to

sleeping later than usual
, tomorrow my plans include
visiting the OB and the house
and Sunday, I want to
just stay in bed with G and baby.