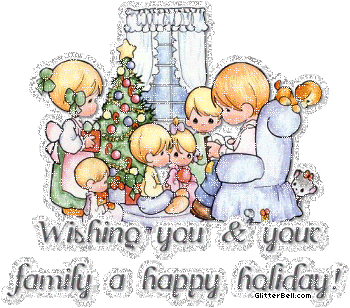 MySpace Graphics at GlitterBell.com
Valentines Day Comments
As the year ends, I am sending this greetings to everyone who always finds time to visit and drop by my blog. Thank you very much! Happy New Year...
2007 has been a good year for me and my family. I received more blessings, and for that I am very thankful to God. Here is a round up of what happened during this year.
January - I was able to finish the permit of Raylight early. There were no major problems encountered. Days after finishing it, I moved to Laguna to be with G.
February - We had DSL at home. Life wasn't boring that much anymore. I began trying different online opportunities.
March - I celebrated my 30th bday. I had a simple dinner with the family but it was still memorable. I started visiting an OB regularly to help us with our fertility issues.
May - My sis Ace & Lon, got the chance to work abroad. A very big blessing for the family.
June - I started writing articles online. Aside from my blog, I also write for other people. I get paid well for it. I also started reviving my blog. I had more time to write and organize my schedule.
July - G celebrated his 31th bday. Another simple celebration for him.
September - We had our trip to Cebu, as our anniversary/yearly get-away. Even with minimal budget, we had so much fun exploring the Philippines' oldest city. (I still have to finish my entry on this).
October - Plans for Mark & Mathy's wedding are in progress.
December - A month filled with blessings and surprises. In addition to it, a 'pahabol' actually. We already got to sign for our house. We just have for the turn-over of the unit and we will already be residents of Sta. Rosa.
Aside from these, there are even more blessings that we have received. We are thankful for every bit of it... For 2008, we are looking forward for another year that may have trials and challenges but we are sure that there will be more blessings than these. We will AIM FOR THE BEST! We have started the year right :)